Arcana Heart 3


Developer(s)
Examu
Publisher(s)
Arcade
Examu
Consoles, PC
Arc System Works (JP, WW)
Aksys Games (US)
pQubed (EU, Vanilla ver.)
NIS America (EU, Love Max)
Genre
Fighting, visual novel
Mode(s)
Single-player, multiplayer
Platform(s)
Arcade (EX-Board(Vanilla ver.), Taito Type X2(Love Max - onward))
PlayStation 3
Xbox 360
PlayStation Vita
Microsoft Windows (Steam)
Rating
CERO: C
PEGI: 12
ESRB: Teen
Release
Vanilla ver.
Arcade
JP September 20, 2011
PlayStation 3, Xbox 360
JP January 10, 2013
EU August 16, 2013
US April 16, 2013 (PS3 only)
Love Max
Arcade
JP May 8, 2013
PlayStation 3, PlayStation Vita
JP May 25, 2014
US September 23, 2014
EU November 20, 2014
Steam
WW September 29, 2015
Six Stars
Arcade
JP December 4, 2014
Steam
WW December 12, 2017
Arcana Heart 3 (アルカナハート3, Arukana Hāto Surī) is the third entry in the Arcana Heart series. It was originally released for the Arcade on September 20, 2011. It was then released for Xbox 360 and PlayStation 3 in Japan in January 10, 2013, and Europe in August 16, 2013. It would then release in the US in April 16, 2013, but only digitally for PS3.
It has since received two updated re-releases on alternate systems.
It has been two months since the Kantou Incident, the name given to Angelia Avalon's failed attempt to punch through the walls between dimensions in the Kantou region of Japan.
During the Incident, the Drexler Institute, an organization with ties to demons, began to stir, re-activating various projects in different parts of the world. The Japanese branch of the Drexler Institute was annihilated by the European Celestial Union, but found new life as the Rosenberg Branch of the European Celestial Union.
Soon after the Kantou Incident, large-scale dimensional rifts began to open all across Japan. This sudden uptick in celestial phenomena was seen as exceptionally odd by many, and some even whispered that it could be the result of secret research by the Drexler Institute. The Japanese branch of the Celestial Union was dispatched to investigate the phenomena, and they called on several angels from the National Academy of Metaphysics.
Several angels from the Rosenberg Branch of the Celestial Union were also dispatched, but they were soon intercepted by the Aesir.
Only six days remain until the destruction of Japan...
Characters
Edit
Returning Characters
Edit
New Characters
Edit
Vanilla ver.
Edit
Six Stars
Edit
(*) - Boss of Score Attack mode in Vanilla ver.
Updates and Patches
Edit
The first updated version of the game, Arcana Heart 3: LOVE MAX!!!!! (アルカナハート3 LOVE MAX!!!!!, Arukana Hāto Surī Love Max!!!!!) was released for Arcade on May 8, 2014. The game would then be released for PS3 and PS Vita on May 25, 2014 in Japan, September 23, 2014 in the US, and November 20, 2014 in Europe. The game would also be released worldwide on Steam in September 29, 2015.
It included rebalanced gameplay, new game modes like Survival Score Attack and Trial Mode, a Training mode in the arcade version, and an After Story mode for the console releases.
Six Stars
Edit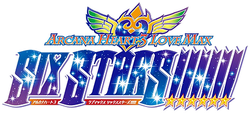 The second updated version of the game, Arcana Heart 3 LOVE MAX: SIX STARS!!!!!! (アルカナハート3 LOVEMAX: SIXSTARS!!!!!!, Arukana Hāto Surī LoveMax: SixStars!!!!!!), was originally released for Arcade on December 4th, 2014. It included one new character, Minori Amanohara, and her Arcana, Ichor.
Thanks to the support of fans on Kickstarter, Examu began work on a Steam port of Six Stars. The developers set a goal of $100,000 and raised a total of $324,639 from 2,987 backers.[1]
The Steam version of Six Stars released worldwide in December 12, 2017, including the new character and Arcana, Minori and Ichor, plus two new characters as future DLC.
This game has the least amount of new characters introduced in the series.
This is the only game in the series that has had multiple re-releases on both Arcade and on consoles.
See: Arcana Heart 3/Trophies.
References
Edit