Arcana Heart 2
(アルカナハート 2, Arukana Hāto 2)


Information
Developer(s)
Arcade
Examu
PlayStation 2
Ecole Software (Suggoi! ver.)
Publisher(s)
Arcade
Examu
AMI Co., Ltd. (Suggoi! ver.)
PlayStation 2
AQ Interactive (Suggoi! ver.)
Genre
Fighting
Mode(s)
Single-player, multiplayer
Platform(s)
Arcade
PlayStation 2
Rating
CERO: B
Release
Arcade
March 21, 2008
April 28, 2008 (Ver. 2.1)
October 30, 2008 (Suggoi! ver.)
February 27, 2009 (Ver. 2.6)
PlayStation 2
April 9, 2009
Arcana Heart 2 is the second entry in the Arcana Heart series. The arcade version was originally released in March 21st, 2008, then later ported to the PlayStation 2 on April 9th, 2009 as Suggoi! Arcana Heart 2 (すごい! アルカナハート 2, Suggoi! Arukana Hāto 2) to match the latest version of the arcade port.
A primordial being known as Angelia Avallone has caused a Dimensional Distortion in Kanto. This event is known as the Great Kanto Incident and in this time, the Holy Spirit Institutions suffered harshly.
† - Boss in both the original version and Suggoi. Became playable in Ver. 2.1.
‡ - Final Boss in the Suggoi ver.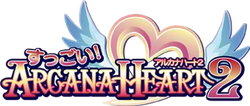 On October 30th, 2008, this major update had been released to further balance the game and fix some bugs. It also came with some design changed, like new character illustrations, an additional stage, the playable debut of Akane and Nazuna Inuwaka alongside their respective Arcana, new color palettes, and a training mode.
Suggoi was also updated to version 2.6 on February 27th, 2009.
This is the only game in the series to not be released outside of Japan due to not only the poor performance and slowdown rate in the game, especially in the console port, but also low sales of the first game.
Community content is available under
CC-BY-SA
unless otherwise noted.