Arcana Heart (アルカナハート, Arukana Hāto) is a fighting game series made by Examu (formerly known as Yuki Enterprise) and Team Arcana. The series is available in Arcades and for PlayStation systems and Microsoft Windows computers via Steam - however, only the first and third game have been released in most territories. The series debuted in 2005.
The series is known for it's use of a full girl cast as they partner with various Arcana to battle with.
Plot Overview
Edit
A long time ago, the world of humans and Arcana lived in harmony until a Dimensional Barrier separated them.
Whenever a crisis arises and someone attempts to break the barriers between the two worlds, a handful of maidens have been given the power to communicate and fight alongside powerful elemental guardian spirits to prevent the disastrous results.
The first game in the series, released exclusively to arcades in Japan in 2005. The first console variant was first given mention during July 4th, 2006, before being released for the PlayStation 2 on October 12th, 2006.
On April 11th, 2007, the console port of the game was released in North America by publisher Atlus.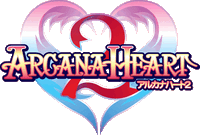 Featuring six brand new characters, the sequel was released to arcades in Japan on December 21st, 2007.
On October 30th, 2008, an updated release known as Suggoi! Arcana Heart 2 came out, including three additional characters. This version was the one to receive a PS2 port, which occurred on April 9th, 2009.
This is the only game in the series to not be released outside Japan.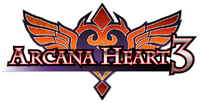 The current entry, Arcana Heart 3 was released for Arcades on September 20th, 2011.
Two years later, on January 10th, 2013, the game had been released on PlayStation 3 and Xbox 360 in Japan, then in August 16th, it was released in Europe.
The game would be released in America on April 16th by publisher Aksys Games, but only digitally on PS3 via the PlayStation Store.
The first update for this game, Arcana Heart 3: Love Max!!!!! came out in Japan on May 8th, 2013. The console version was released worldwide for PS3 and Vita in 2014, and for Steam in 2015.
The second update, Arcana Heart 3 Love Max: Six Stars!!!!!!, originally released as an update for Love Max on December 4th, 2014. It was then ported to Steam worldwide on December 12th, 2017, thanks to a successful Kickstarter campaign.
The third update, Arcana Heart 3 Love Max Six Stars XTEND, was recently announced, but nothing is known so far. It originally had a Fall 2019 release window. As of February 10th, 2020, due to Examu's closure by the end of the month, XTEND is now under development by Team Arcana. An early test version was released for backers on Feburary 14th.
Merchandise and Spin-offs
Edit
Manga - a two-part manga series based on the first game.
Card of Glory - a spin-off for mobile devices in Japan.
BlazBlue: Cross Tag Battle - a 2v2 tag team fighting game spin-off, including characters from Arc System Works titles.
In the continue screen, they give the player tips on how to beat their opponent. However, it was removed since Arcana Heart 3.
Community content is available under
CC-BY-SA
unless otherwise noted.