"...You're not going to leave this article like it is, are you?"
This article is a stub. You can help Arcana Heart Wiki give it some love and care by expanding it.
"Hello, this is Hyoudou reporting you a spoiler warning."
This article, or section, may contain spoilers, so please read at your own discretion.

After Story is a game mode in the Arcana Heart series. Introduced in Arcana Heart 3 Love Max, it took place after Story Mode.
Plot
[
]
Prologue
[
]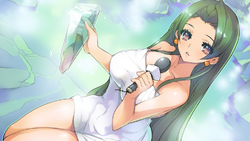 A broadcast is shown as Hyoudou in the hot springs.
Phase 1
[
]
Phase 2
[
]
Phase 3
[
]
Hot Spring
[
]
Warning: The image may be NSFW. Click "Expand" to view.
Once everyone was accounted for, the girls head to the hot spring to relax. Heart, Saki, Weiss and Scharlachrot are talking about the ping pong table they are gonna do later. Lilica is wondering if Yoriko's chest float, Clarice was gonna do the same thing with Elsa but backfired. Mei-Fang, Mei Ling and Mildred are relaxing, Mildred wondering if Mei Ling is still mad about blackmailing her into working for her (back in the first game). Angelia is attempting to drown Fiona like a submarine. Kira and Catherine are fighting over their clothing during the hot springs, while Dorothy got caught up in the middle of the fight. Zenia is washing Lieselotte's hair as Zenia sorta remembered this moment before, Lieselotte told Zenia about her birthday and wondering if she has free time. Heart is asking Petra to join in, but Petra is relaxing in a tub. Akane and Tsuzune are having competition of their chest while Koito and Kouta watches. Konoha and Nazuna are brushing Kamui's hair, while Kamui washing a penguin plush she was keeping over the years. Michelangelo and Merlin are tied to Yodogawa while Kazu is trying not to peek in the hot spring.
Epilogue
[
]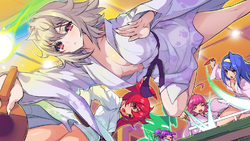 As Heart, Saki, Weiss and Scharlachrot are prepared to play ping pong, Clarice is planning what Michelangelo said to her earlier, she extract the stones of the hot spring to return back to the spiritual plane. Kamui showed up and thank her for performing it, then Clarice talked about how she loved the physical plane like a human. Kamui might think that Clarice know how she can make a physical body, till Mildred popped up and told them something about Weiss earlier, involving with the stone's will. Mildred explained about the Drexler Institute sending Valkyries to the spirit plane to use them as ingredients to make more rainbow colored celestial stones, but didn't know how they collected, and making sure her sister won't touch the rainbow colored stones again. Mildred also explained the problem with Fiona, she told Clarice the secret of making someone a human again is required the rainbow celestial stones, which don't know how many, leaving this a rather cruel decision for Fiona and keeping this method a secret. Clarice doesn't know anything, but she's a demon after all, she likes to see her suffer by it. Clarice leaves and hope to never see her again. Mildred wonders if Kamui's accessory in her hair is a rainbow celestial stone and Kamui quickly decline her question, and leaves. Mildred sense that Mei Ling is easedropping their conversation and not worry about it. In the end, Heart and Saki engage in a game of ping pong with Weiss and Scharlachrot.
Fights
[
]
Phase 1
Phase 2
Phase 3
Trivia
[
]
[

]